RFID module series for 125 kHz, MIFARE (Classic, DESFire, UltraLight, PLUS), NFC, LEGIC or multi-ISO with integrated or external antenna.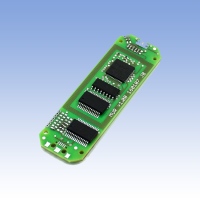 AIO (All-In-One)
The AIO module is a cost-effective RFID module supporting all common 13.56 MHz technologies, incl. LEGIC, MIFARE, NFC, … It offers 8 different interfaces for easy connection to all types of applications.
FLEX
The new multi-functional and multi-technology RFID module FLEX gets its name from its extreme flexibility in applications.
FLEX is a cost-effective read/write module, suited for use with transponders in all common 13,56MHz technologies. This universal application possibility offers enormous advantages, compared to other modules supporting just one technology.
COMPACT-ISO
The multi-technology RFID module COMPACT-ISO is an extremely cost-effective module for NFC, ISO14443A and ISO15693 technologies. It combines a super price/quality ratio with high-tech standards and highest technical integration facilities.
COMPACT-DES MIFARE
The COMPACT-DES RFID module is a very useful module for all MIFARE transponder types such as Mifare Classic, DESFire, Ultralight and PLUS S/X. It will also read LEGIC Advant tags.
COMPACT-DES offers a lot of integration facilities making it very easy to integrate in existing systems and terminals, offering you the perfect solution for all you MIFARE based projects.
Read more
COMPACT 125 kHz
The extreme small dimensions of the COMPACT module series of RFID modules are specifically designed for easy integration into terminals, such as time clocks or POS.
COMPACT is available for 125 kHz EM4102 and Hitag 1/2/S and offers a wide selection of different interfaces.
OEM
Another member of our modules family are the OEM modules. The OEM modules, also available for EM4102, Hitag, MIFARE, NFC and Legic, come in a fully potted housing with an integrated antenna for 125 kHz or an external antenna for 13,56 MHz applications.
ProxTech offers a full range of cost-effective RFID modules for integration or as the core component for your own RFID project.
RFID modules are available in a wide variety of versions, with integrated or external antenna, and this for all common RFID technologies on 125 kHz and 13.56 MHz. We can offer you solutions for EM, Hitag, MIFARE, MIFARE DESFire, LEGIC Prime, LEGIC advant, ISO14443 A/B, ISO15693, NFC and many more.
Simply click the "READ MORE" button on the different modules to find a more detailed description.
If you are looking for complete RFID readers, USB RFID desktop readers, RFID USB stick readers, stand-alone systems or RFID transponders, please have a look in our Products menu on top of this page to discover the other ProxTech product ranges.
Or just contact us if you can't find the correct RFID module for your requirements. We continue to improve and expand our RFID module series. We can assist you to find the best solution for you or develop your customer-specific RFID module.